Summer Fair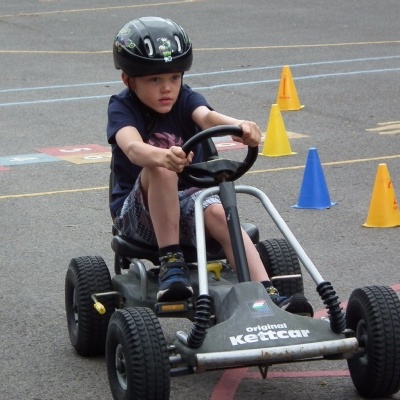 Highfield South Farnham was pleased to welcome parents, governors, pupils and friends to the Summer Fair 2015 on Saturday 13 June.
Storm clouds receded just in time for pupils, parents, governors and friends to enjoy an afternoon of fun at the Highfield South Farnham Summer Fair; celebrating the successful school year gone by and looking forward to the next exciting stage of the school's development.
The barbecue was sizzling and the sports field buzzed with activity as children clamoured over a tractor, navigated around a go-kart course and chose all manner of treats and cakes from the many fairground stalls. At one point, much to the enjoyment of the pupils, and with encouragement from the audience, two brave members of staff joined-in the Sumo-wrestling challenge. However, as the sun bathed the event in bright sunshine, it was the dance troupe that stole the show with a rendition of their successful 'Fearnhamme's Got Talent' entry.
The Highfield South Farnham Parents and Friends Association, who organised the event, worked hard to ensure plenty of opportunities for young and old to meet and enjoy the afternoon, while the older pupils enjoyed running the hook-a-duck, candy floss and other fairground stalls.